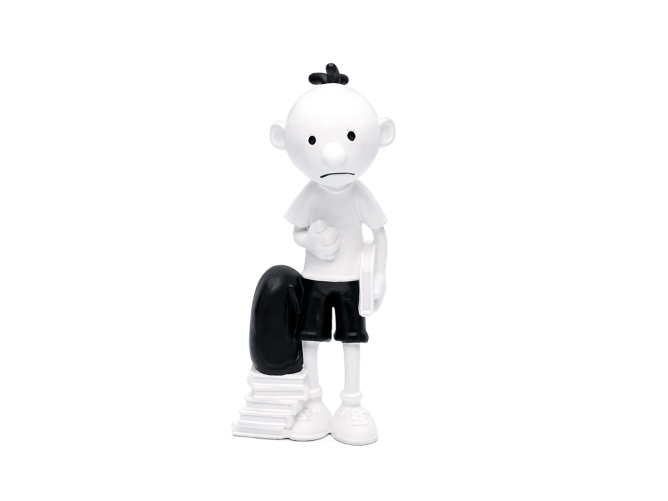 Older Kids Tonie Collection
Explore these stirring stories about friends, feelings, and adventure. This Adventure Collection for older kids features Diary of a Wimpy Kid, the Famous Five and How to Train Your Dragon.
Diary of a Wimpy Kid
This story follows teenager Greg Heffley, who writes about his daily life in middle school in a secret journal filled with his feelings from happiness, sadness and friendship.
Reader: Dan Russell
Running time: approx. 139 minutes
Famous Five
Julian, Dick, Anne, George and Timmy the dog find new discoveries and adventure wherever they go in Enid Blyton's most popular series. From solving mysteries to half term escapades, these five are often found caught up in exciting adventures.
Running time: approx. 67 minutes
How to Train Your Dragon
Whoosh! Zoom! Zip! Join the adventures of young dragon trainer Hiccup and his loyal dragon companion Toothless on the island of Berk, the world's first dragon-Viking utopia. Experience the thrill of dragon racing, get to know the newest dragons and be dazzled by their unique powers as they battle ruthless dragon hunters.
Running time: approx. 35 minutes
*Promo codes cannot be used on bundles
List of titles
Good Old Timmy
When Timmy Chased the Cat
A Lazy Afternoon
Five and a Half-Term Adventure
What Flies Beneath
Dragon Race
Meet the New Dragons
Homecoming
Running Time
approx. 241 minutes
Accessories
Booklet, instructions
Note
WARNING! Not suitable for children under 36 months. Choking hazard. Small parts. 2.4 GHz Wi-Fi required. Partial returns not possible.